Starter Kits
The Kits
Kits have what you need to get started selling as an independent consultant. A kit costs $480, well under its retail value of $663 (not including business supplies). You only have to pay $50 up front – see the kit loan program below – but if you pay in full, the kit is yours for only $400! Independent consultants are responsible for tax (where applicable) and shipping costs.
Kits include:
Business supplies (listed below)
59 educational items (listed below)
Membership in BTC for the year
Business Supplies Included
50 Beyond the Classroom Pencils
100 Carbon Order Forms
1 Flyer, to be Xeroxed
50 Hostess Invitation Post Cards
Order Forms, to be Xeroxed
10 catalogs
An Independent Consultant Handbook
After purchase of a kit, when you need business supplies they will need to be purchased. You may use your business account that is provided and managed by BTC™ to help defray the cost.
Educational Products Included
The kits also include one of each of these items for you to demo when selling (59 items!). (You may add additional items to this kit at a 35% discount.)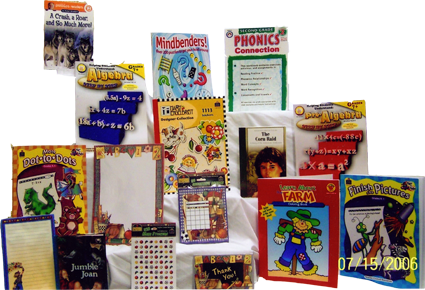 Absurdities Book
Addition and Subtraction Practice Book*
24 Game (single anddouble decks)*
Alphabet Sound Track Game/CD
Analogy Challenges
Algebra Step-By-Step*
B-Dazzle Puzzles
Biology or Chemistry Book
Brainteasers or Mindbenders Book
Brain Busting Bonanza Puzzles
Bulletin Board / Posters*
Mini Chartlet*
Big Chunky Book*
Coloring Book (young children)*
Coloring-N-Seek*
Computer Paper
Creepies Leveled Reader*
Dictionary Usage
Fine Motor Skills Book*
Finish the Picture
Mind Twisters*
Funtastic Frog Math Vol. 1 , 2, or 3*
Geometry Practice*
Grammar, Grades 7–8
How Do I Write A Sentence?
Hardback Storybook*
Hidden Fur Coloring (Fine motor skills for older kids)*
Hive Strategic Game
Jamestown Leveled Reader*
Kidsong DVD
Mercer Mayer Leveled Reader*
Mind Twisters*
Money Practice
Multiplication War Card Game*
Multiplication Number Book*
Noodlebug Activity Book*
Noodlebug DVD/CD
Noodlebug Hardback Book*
Nonfiction Reading Practice
Note pad*
Nursery Rhymes Chubby Book and CD
Perplexors

(Perplexers)

Book
Phonics Book*
Post Cards*
Qwirkle (an awesome strategy game)
Reading for Comprehension and Fluency Book*
Reading for Speed and Content Book*
Red Grammer CD*
Stickers and Mini Stickers (2 sets each)*
Summer Bridge Activities Book*
Whatever Next Game
Word Winks
* Product may vary according to grade level or title.
Suppliers
We only carry educational products from renown and reputable companies.
Teacher Created Resources
Suntex International
Carson Dellosa
Kidsongs
Mindware
Remedia Publications
School Specialty
Frank Schaffer
Rounder Records
Paying for the Starter Kit
Kit Loan Program
The loan kit is a typical way of starting as a consultant. The cost of the kit is $480.00, if you purchase the kit by loan; you only pay $50.00 up front, plus tax (if applicable) and shipping. Once you start with parties you take your cut with 20% of sales minus 20% of your profit to be paid to Beyond the Classroom™ until the kit is paid in full. This example is also in the consultant handbook see page 7.
EXAMPLE:
$540.00 Merchandise total
$108.00

(20% of $540 profit prior to tax and shipping)

$25.00 Shipping
− $21.60

(20% of consultant profit for kit payment)

$19.50 Tax total
$86.40

(Total profit for consultant)

$584.50 Grand Total of Party
+ $19.50 Taxes added
$105.90 Total consultant keeps prior to paying BTC™
Grand Total of Party Payment owed to BTC™: $478.60

(Party total, $584.50, minus what consultant keeps, $105.90)
OR Pay In Full
Pay for the kit with a check/money order or Credit Card in Full AND Receive the full kit for only $400.00 @ $80 off the Full Kit Price.
What's Next
Ready to begin selling? Sign up to become an independent consultant. We will call you and guide you through ordering your starter kit and answer any questions you have.
Beyond the Classroom reserves the right to discontinue or replace any product at any time without notice. Prices and order forms are subject to change without notice. All prices are US dollars. New items will be available for purchase at the 35% off retail price as they are available. You will be notified of discontinued items by flyer and/or e-mail.
Copyright © 2006 Beyond The Classroom. Website designed and developed by Alan Hogan.